THE RIGHT DEWATERING METHODS
Well Drilling
Wells are drilled for a wide range of different client requirements such as dewatering wells for construction dewatering and groundwater control, geothermal wells for heating and cooling, testing services as well as remediation wells as part of pump and treat systems for groundwater remediation. There are different depths, location and application to consider, as well as the equipment used in the design stage of the well.
We have our own experienced drilling crew to carry out cable percussion, rotary drilling and auger drilling to carry out the needs of any situation.
At Alba Dewatering, our team have the experience to advise on how best to approach your well drilling needs. They can ascertain all requirements, assessing ground conditions and recommending the most suitable method, to selecting drilling rigs and support equipment. Our skills and training meet the highest technical standards and safety compliance and are BDA qualified.
Cable Percussive drilling (Shell & Auger)
Cable percussive drilling is one of the most commonly used techniques for ground investigation and is a method used to sample soil to much greater depths than window sample boreholes. This method allows for in-situ testing to be conducted and for soil to be recovered. Water samples can also be collected during this process from differing depths without risk of cross-contamination.
Water wells and dewatering Pumping and monitoring wells
Rotary drilling
This method is typically used at deeper depths and harder formations.
Also used for site investigation, water wells and dewatering pumping and monitoring wells.
Auger drilling
Auger drilling is typically site investigation, smaller diameter water wells and dewatering pumping and monitoring wells.
Drilling through clays.
We can provide a full solution from design, drilling and installation, pump testing as well as maintenance and rehabilitation. Whatever your well drilling requirements, the team at Alba are always ready to give advice and show you the options if you would like to consult with a member of our experienced team, call us on 01283 585 700 or email info@albadewatering.co.uk.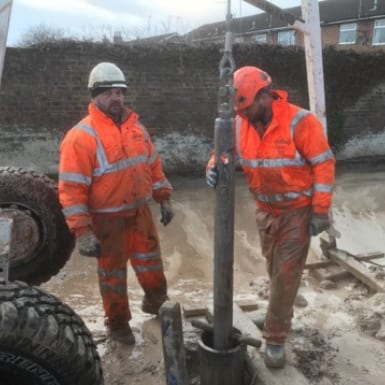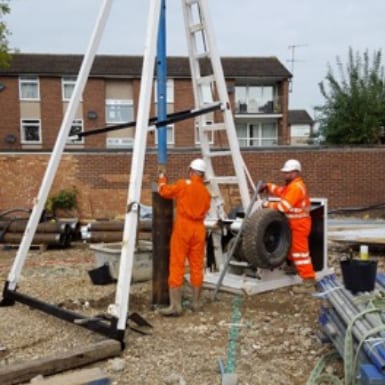 Cable Percussive / Shell & Auger Drilling